When you choose Baba School for your child,
you choose education of the highest academic quality.
The School Cafeteria provides safe, hygienic and nutritious food items. The school promotes wellness and healthy living by frequently monitoring the quality and the portions of food that our students eat. We give high priority to ensure that the food our students eat are high in quality and nutrition. Students can also use our residential dining facility by abiding the basic etiquettes of the dining hall.
My two children, Akriti and Aditti Lama are enrolled in Baba School, in Grade 5 and 2 respectively. I am thoroughly impressed and satisfied with the quality of education and facilities that Baba provides as they have exceeded my expectation. My children are outspoken and outgoing, well-spoken, and well-mannered thanks to the extra-curricular activities that they are engaged in at the school. They are well-spoken and well-mannered, and the credit goes to the institution. The knowledge that my daughters are well taken care of at Baba puts me at ease regarding their future. I highly recommend the school to my friends and relatives. I do request that the management speed up their initiation to introduce language classes.
Anil Lama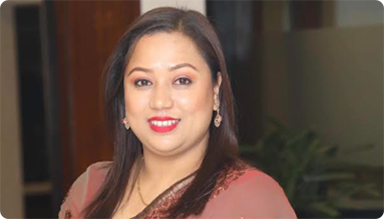 I am Reema Pradhan, guardian of Rishabh Pradhan from Grade 3. He has been studying at Baba School since playgroup. I must say Baba School is one of the better educational institutions for our child's education. The school has taken a commendable effort to continue online classes during the pandemic as well. I am really grateful to the school management and teachers and truly appreciate their work. Thank you!
Reema Pradhan