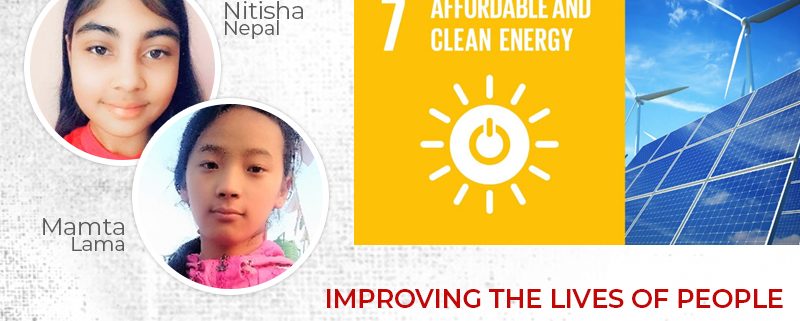 One of our best topics that we had while we were in grade 8 studying social studies was learning and exploring the affordable and clean energy which also happens to be SDG Goal No.7. During our learning period, we also went to AEPC (Alternative Energy Promotion Centre) to deepen our knowledge and gather facts and information from the centre. AEPC is located at Khumaltar height, Lalitpur. AEPC is a government institution established on November 3, 1996, under the ministry of Science and Technology. The main objective of AEPC is to develop and promote renewable energy mainstream resource through increased access and knowledge.
At AEPC , we met Mr. Anjeet Gautam who is an engineer at AEPC and he gave us a tour of the site and explained us about the functions of AEPC, energy and their sources. We learned that the sun is the ultimate source of energy and it plays a vital role in the production of materials. We also came to know about the different sources of energy. The sun is the alternative source of energy but people are still not clear about it. We were really surprised to learn that there is not a sufficient amount of clean and affordable energy in the places like Baitadi, Sindupalchowk, lolukhumu depriving the people there from most of the electric appliances from using. AEPC is trying to make renewable energy as a main stream resource through increased access, knowledge and adaptability contributing to the improved living conditions of people in Nepal. AEPC is trying to be recognized as an active institution promoting renewable energy technology (RET) in the region. AEPC has been launching different programs in the different parts of the country with possible solutions for problems for alternative and clean energy by the use of natural resources instead of other sources of energy.
The visit to AEPC clearly gives us knowledge that it is necessary to develop affordable and clean energy in remote areas as well and not just in city areas only. We should explore all kinds of possibilities of renewable energy such as Solar Energy, Wind energy, Hydropower and Bio degradable Energy to improve the lives of people leaving no trace of greenhouse gas emission.
Mamta Lama /Nitisha Nepal, Grade 8